The lecture will take place in TANNA SCHULICH HALL, followed by a wine and cheese reception in room A832/833 (8th floor of the New Music Building).
ABSTRACT: 
I. The Artist
For an artist working in the field in between sound design, visual arts, music and installation, the implications of Moore's law are a very mixed blessing. Within a few decades we moved from a perceived lack of sufficient tools for expression to an overwhelming abundance of choices. With hardware and software becoming increasingly powerful and available, the role of the artist changes, and the expectations of the audience too. Old models of separation between composition, instrument design, performance and recording become obsolete. Not only did the technical side change but as a result also the social interactions and feedback systems within that artistic process. This situation needs adapted strategies to cope with new offerings and demands. What can serve as anchor points for creation when everything can be rethought, redone, reprogrammed at every stage of the process? How can we manage to work towards a defined goal with hundreds of possible versions simultaneously available and deliver something that matters? And what actually does matter artistically in a world where everything can at any time be compared to what someone else is doing on the other side of the planet?
II. The Software Designer
Our musical instruments have feature lists and come with updates. Ideally an instrument is perfect for a certain use case, once it is invented it becomes part of the palette of options and it can be practiced and mastered. Obviously things are not like this in software! Artists are customers and they want features, but constantly changing an instrument is a bad idea. Coping with expectations and resisting the desire to add every possible option is a big challenge, and things don't get easier when a piece of software becomes the main creative tool for a large user base. Every change has the potential to make a lot of people either very happy or the opposite, and experience shows that this is often quite unpredictable. The history of Ableton's Live software will serve as a case study here.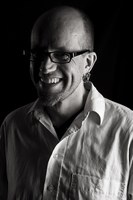 ABOUT ROBERT HENKE: 
Robert Henke is an artist working in the fields of audiovisual installation, music and performance. He was born 1969 in Munich, Germany, and lives in Berlin.
Coming from a strong engineering background, Henke is fascinated by the beauty of technical objects and developing his own instruments and algorithms is an integral part of his creative process.
His materials are computer generated sound and images, field recordings, photography and light; transformed, re-arranged and modulated by mathematical rules, real time interaction and controlled random operations. Robert Henke's work has a particular focus on the exploration of spaces, both virtual and physical. Many of his works use multiple channels of audio or are specifically conceived for unique locations and their individual properties. For the past few years, he has been exploring the artistic usage of high power lasers in his installations and performances.
The results include music on the edge of contemporary club culture, surround sound concerts, compositions in the tradition of academic computer music, photography, audiovisual installations, sound art and publicly available software. His long term musical project Monolake, founded in 1995, became one of the key icons of a new electronic club music culture emerging in Berlin after the fall of the Wall.
Robert Henke is also one of the main creators of the music software Ableton Live, which since its invention in 1999 became the standard tool for electronic music production and completely redefined the performance practice of electronic music.
He writes and lectures about sound and the creative use of computers and held teaching positions at the Berlin University of the Arts, the Center for Computer Research in Music and Acoustics (CCRMA) at Stanford University, and the Studio National des Arts Contemporains - Le Fresnoy in Lille, France.
His installations, performances and concerts have been presented at Tate Modern London, the Centre Pompidou Paris, Le Lieu Unique Nantes, PS-1 New York, MUDAM Luxembourg, MAK Vienna, the Art Gallery of New South Wales in Australia, KW Institute for Contemporary Art, Berlin, STRP Biennale Eindhoven, and on countless festivals. 
Photo credit: Jimmy Mould
VIDEO ARCHIVE - ROBERT HENKE
APA video citation:
Henke, R. (2016, August 16). Give me limits! Two perspectives on computer based music production in a time of exponentially growing possibilities  -
CIRMMT Distinguished Lectures in the Science and Technology of Music. [Video file].
Retrieved from https://www.youtube.com/watch?v=iwOaYxSJGqI&feature=youtu.be