Research and Work Facilities
COVID-19 Lab Booking Guide
Please check the COVID-19 Lab Booking Guide page and make sure you are aware of all necessary procedures before coming to CIRMMT.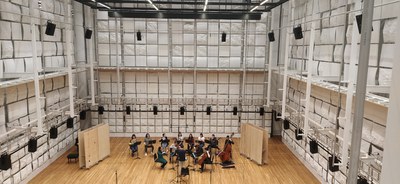 (Photo credit: Gianluca Grazioli)
The MMR is a large scale research facility with variable acoustics for the scientific study of live performance, movement of recorded sound in space, and distributed performance. This unique infrastructure enables the development of technologies at the core of these areas of study, as well as on cognition and perception in musical performance.
Large-scale multi-channel sound systems are used for musical and perceptual research and large ensemble performance analysis. The space may also be used as a world-class recording studio.
With its custom-made acoustical treatment, 64 loudspeaker active enhancement system and multiple research equipment, the MMR is an ideal room for research on public and participatory presentations, immersive environments, audio recording technologies, and tele-presence, which includes sound in space (virtual acoustics and spatialization) and multi-sensory integration in distributed and immersive environments.
With a capacity of up to 135 spectators (depending on the room configuration), the MMR has an infrastructure which can greatly contribute to the advancement on sound spatialiation and the perceptual impact of acoustics on listeners.
Performance Research Laboratory (PeRL)
8th Floor Laboratory Suite
Private and Open Workspace