Abstract
Hanna Hartman and Distractfold Ensemble will be discussing "Dust Devil", a work commissioned in 2017 for violin, bass clarinet, tape and two object operators working with amplified salt. They will discuss the process of working with amplified objects in the context of a chamber ensemble, and the unique challenges that arise from performing them within a complex blend of instrumental and electronic sounds. Distractfold and Hanna have developed a close working relationship over the last 4 years, and will also discuss their process of collaboration.
Hanna Hartman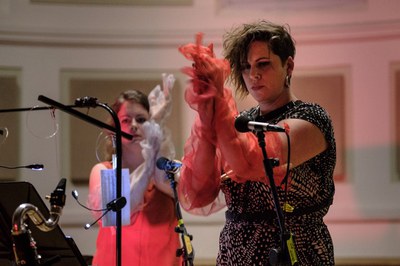 Hanna Hartman is a Swedish sound artist, composer and performer living in Berlin. Hartman studied Literature and Theater history at the Universities of Uppsala and Stockholm, Radio and Interactive Art at Dramatiska Institutet and Electroacoustic Music at EMS in Stockholm. 
Since around 1990 she has composed works for radio, electroacoustic music, sound installtions and numerous performances all over the world. She does also write pieces for instrumentalists. Her many awards and grants include Prix Europa (1998), the Karl-Sczuka-Prize (2005), a Villa Aurora grant (2010), the Rosenberg Prize (2011) and the Phonurgia Nova Prize (2006 & 2016). During 2007 and 2008 she was Composer-in-Residence at the Swedish Radio. Her work has been presented in numereous concerts and festivals such as Wittener Tage für neue Kammermusik, Darmstädter Ferienkurse (2012, 2014), Ultima Oslo Contemporary Music Festival (2012, 2014), Huddersfield Contemporary Music Festival (2013,2016), el nicho aural, Mexico City (2014), Akousma, Montreal (2014), ECLAT festival, Stuttgart (2017), Cut & Splice Festival, Manchester (2017).
Having developed her very own language, the Swedish sound artist and composer Hanna Hartman creates compositions that are exclusively made up from authentic sounds which she has recorded around the world. Sounds are taken out of their original context and thus perceived in their purity. Hanna Hartman seeks to reveal hidden correspondences between the most diverse auditive impressions and in new constellations she creates extraordinary worlds of sound. 
Distractfold
Manchester-based Distractfold Ensemble is a collective of performers, composers and curators all acting out of shared love, passion and interest in the music and culture of our times. Coming from different continents, backgrounds and having received a diverse education, together they create a nexus of ideas and influences which all contribute towards the ensemble's unique voice and identity.
They perform acoustic, mixed and electroacoustic music of their peers, alongside music of the more established composers with whom they have formed close collaborations and friendships.
In the seven years they have been together, they have toured internationally and hosted many exciting international artists in Manchester whose work reflects their aims of going deep into the details of all music they play, as well as embracing unusual and innovative concert situations.
Last season they performed, among others, at Rainy Days Festival in Luxembourg, hcmf, Kalv Festival and travelled to California for a residence at Stanford University.
In 2017 they curated, produced & performed Cut & Splice Festival  which took place in Manchester in March, in collaboration with Sound and Music and BBC Radio 3.
Besides playing new music members of Distractfold  can be found dancing salsa, working at the helpline of the Samaritans, collecting anything with cat imagery, stroking cats, watching cat youtube videos, folding origami, obsessively worrying about bubble wrap not being recyclable and researching natural medicine.