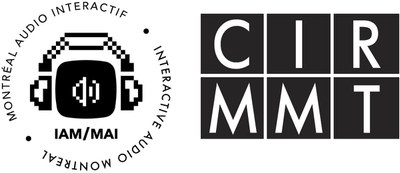 Registration
Event starts at 6pm, doors open at 5.45pm.
Space is limited; registration is available via EVENTBRITE [LINK].
Description
Interactive Audio Montreal (IAM) and the Centre for Interdisciplinary Research in Music Media and Technology (CIRMMT) have joined forces to organize a series of cutting-edge events on the new frontiers of interactive audio: techniques, trends, challenges.
Now in its Second season!
Stay tuned.  
Programme

IAM/MAI #8 Opening statement (M.S. Poirier, F. Tordini)


The New Frontiers of Interactive Audio - Creating Sound for Mobile Games: a roundtable with GAMELOFT Audio Team
IAM@CIRMMT Series, Season Two.

About this meeting:
Creating sound and music for video games is an art, and its impact on players is undeniable. Video games are everywhere: on our consoles, computers, and on the mobile devices in the palms of our hands. You would think that sound and music are handled the same way in every situation. But several techniques and processes become more strategically demanding in the context of mobile devices due to their small size.
At the Gameloft Audio Team, a large portion of our work consists of optimizing the integration of our sounds to fit within the often-tiny space available to us. We will share our techniques, tips, and ideas about what to prioritize before and after creation: formats, compression, quality, quantity, structure, type of device, etc.

The presentation will be a round table where we will present our methods and encourage audience members to take part when they wish.

...and another chance to win one iZotope and one Krotos treat if you are a registered participant!
Speakers: rich roster from GAMELOFT!
  Kim Derome (Composer)
  Alexandre Rivaud (Sound Designer)
  Sébastien Ménard (Audio Manager)
  David Jalbert (Sound Designer)
  Étienne Marque (Lead Sound Designer)
  Jorge Peirano (Audio Director)
...make sure to register on Eventbrite to participate to the free plug-in raffle!

Past Editions
Please visit the IAM blog-site to know more about Interactive Audio Montreal and our past editions [
LINK
]