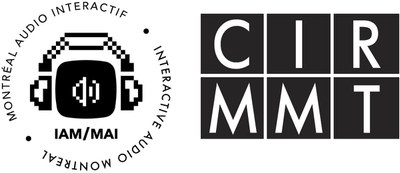 Registration
Space is limited; register now to ensure your seat on Eventbrite!
Description
Interactive Audio Montreal (IAM) and the Centre for Interdisciplinary Research in Music Media and Technology (CIRMMT) have joined forces to organize a series of cutting-edge events on the new frontiers of interactive audio: techniques, trends, challenges. Stay tuned!  
Programme

5:45: DOORS OPEN
6:00–6:10: IAM meeting#4: Welcome statement: The IAM Series at CIRMMT

Topic: The New Frontiers of Interactive Audio in Digital Storytelling
6:10-6:30: Richard E. Flanagan (Creative Director at Ubisoft and Independent)
 
                 "From the Sound Up - Designing the World of FRACT OSC through music."   
                 Talk description: 
                 In this design-focused talk, Richard Flanagan will present the inspiration, methodology and implementation of
                 the world & systems in FRACT OSC. FRACT OSC is a first-person exploration puzzle game built on a world of
                 sound where player actions directly influence the musical reactivity of the game and contribute to an evolving
                 electronic music score. FRACT OSC achieves deep sound-reactivity by employing a custom sound engine
                 focused on dynamic real-time synthesis. This talk will break down the hows & whys of the world structure,
                 a deep dive into aspects of musical puzzle design, some mistakes along the way and a live demo showcasing
                 the game.
6:30-7:00: Q&A & Demo with Richard E. Flanagan


7:05-7:30: Eric D. Robinson (Founder of Sonic Bloom)

                 "Proactive Audio in Action."  
                 Talk description: 
                 After a brief definition and explanation of Proactive Audio theory, Eric will show how easy it is to put into
                 practice and some of the simple wins that can be gained from it.
7:30-8:00: Q&A with Eric D. Robinson 
8:00–...   : Networking, coffee and soft drinks, and beer a few steps away…
PAST EDITIONS
IAM-CIRMMT#1, First meeting, Dec 12, 2017   [
LINK]
IAM-CIRMMT#2, Second meeting, Feb 20, 2018   [
LINK]
IAM-CIRMMT#3, Third meeting, Apr 24, 2018   [
LINK
]