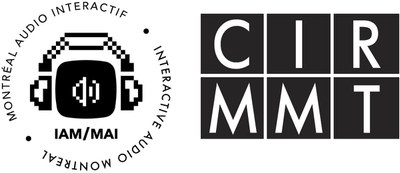 Registration
Space is limited; register now to ensure your seat on Eventbrite!
Description
Interactive Audio Montreal (IAM) and the Centre for Interdisciplinary Research in Music Media and Technology (CIRMMT) have joined forces to organize a series of cutting-edge events on the new frontiers of interactive audio: techniques, trends, challenges. Stay tuned!  
Programme

5:45: DOORS OPEN
6:00–6:10: IAM meeting#5: Welcome statement: The IAM Series at CIRMMT

                  Today's Topic: Interactive scoring, Immersivenes, Agency
6:10-6:45: Eric Hamel (co-founder of Worthing & Moncrieff)
 
                 "The Origin of Scoring - Music Design for an Audience with Agency."   
                 Talk description:  Since the inception of film and games music has played an important role in how we tell stories. Often as game developers we look to film as a paradigm for how music should function in games. In this talk we will discuss how music contributes to a film experience, and explore ways in which we can transform and adapt our tools for designing music to an interactive medium. By structuring elements of the music to synergize with game design, we can utilize music to communicate with the player and give them an advantage during play.


6:45-7:00: Q&A with Eric Hamel


7:05-7.40: Evelyne Drouin aka Dj Mini (sound artist, designer, director and composer) & Maxime Plantady (developer)
                "Interactive Audio - Educational and sensory applications" (Please note that this presentation will be given in French)
                Talk description: In this session, our speakers will investigate the educational potential of various interventions focused on the senses, space and movement, in their artistic practices as well as within the non-profit organization geniemob.ca. They will present recent projects linking the design of creative techno experiences bringing together the mediums of sound and haptic feedback, interactivity, movement, to bring artistic creation to the realm of health applications.
7:40-7:55: Q&A with Evelyne Drouin and Maxime Plantady
8:00–...   : Networking, coffee and soft drinks, and beer a few steps away…
PAST EDITIONS
IAM-CIRMMT#1, First meeting, Dec 12, 2017   [
LINK]
IAM-CIRMMT#2, Second meeting, Feb 20, 2018   [
LINK]
IAM-CIRMMT#3, Third meeting, Apr 24, 2018   [
LINK
]
IAM-CIRMMT#4, Fourth meeting, Jun 27, 2018   [
LINK
]