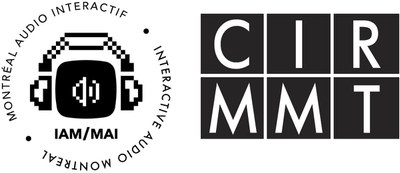 Registration
Space is limited; registration is available via EVENTBRITE [LINK].
Description
Interactive Audio Montreal (IAM) and the Centre for Interdisciplinary Research in Music Media and Technology (CIRMMT) have joined forces to organize a series of cutting-edge events on the new frontiers of interactive audio: techniques, trends, challenges.
Now in its Second season!
Stay tuned.  
Programme

IAM/MAI #7 Opening statement


The New Frontiers of Interactive Audio - Automotive Sound Design
IAM@CIRMMT Series inaugurates its second season with a night dedicated to Automotive Sound Design. Our guest speaker will be Brett Sceli, followed by an open Q&A and a Roundtable on the same very topic.
...and another chance to win an iZotope treat if you are a registered participant!
Speaker: Brett Sceli   [link to BIO]
Talk: Automotive Sound Design
In this talk, Brett will give insight on his experience working in automotive sound design for Harman International and Audiokinetic. His experience covers a new area for sound in the automotive manufacturing world, specifically for electric and hybrid vehicles. He will be discussing new sound laws in place to protect pedestrians, opportunities in automotive design to apply types of creativity used in other fields, his personal experience of real-world applications, and will have an open discussion on the subject in a round-table format.
Roundtable:  Brett Sceli & IAM@CIRMMT participants.
Our sponsor: iZotope
Past Editions
Please visit the IAM blog-site to know more about Interactive Audio Montreal and our past editions [
LINK
]