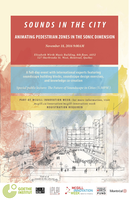 le français suit ci-dessus
Registration (required)
Please
register online for any or all of the day's sessions [REGISTRATION LINK]
This event is part of the McGill Innovation Week
Description
Pedestrianized areas are on the rise as public spaces – they can become landmarks for the city when they work well (think rue Ste-Catherine or NYC's Times Square), or they can become heavily politicized scapegoats when they don't. One aspect of these places that is never discussed is how they sound to visitors and whether the sound can play a role in its outcome – we call this holistic consideration of sound soundscape. For our event, we're gathering experts on planning, design, and soundscapes for an engaging discussion.
Each project begins when we remove the largest source of noise - the traffic. Reducing noise is great for health and quality of life, but that noise might have been serving a purpose. In a large city park, the silence is calming, but traffic noise can offer steady masking and, thus, a form of privacy; without it, we could be making "awkward silence" where there is nothing "underneath" the traffic noise. Is this the appropriate ambiance? A vibrant pedestrian area needs to make sound that reflects the culture and activities of the quarter at all hours of the day. Further, the visual environment and the sound environment need to work together.
Audience

Today, there is no established and authoritative world expertise on the problem of sound in pedestrianized areas (commercial or otherwise). We aim primarily to reach Montreal's urban planners and designers with a focus on knowledge co-creation. Let's sit down together and generate some new knowledge and ideas on how to make these increasingly popular spaces work even better. Invited guests include soundscape and design experts from McGill, Germany, and beyond. While planners in attendance will be challenged to work with sound, sound researchers will be challenged to appreciate the complexity of planning for people in the city. Ongoing projects in the City of Montreal are used as case studies.
Invited Speakers

Lisa Lavia, Managing Director, Noise Abatement Society, London, UK.
Jochen Steffens, PhD, Technical University of Berlin, Germany
Andre Fiebig, PhD, Head Acoustics, Germany
Martijn Lugten, PhD Student, Cambridge University, UK & NLR Dutch National Aerospace Laboratory, the Netherlands
Pierre Sainte-Marie, Hélène Benoit & Romain Bonifay, Ville de Montréal, Division des grands projets
Schedule
8:30-9:00
       Coffee Welcome
9:00-9:10       Opening remarks: Katja Melzer, Goethe-Institut
9:10-9:30       Introduction, Sounds and the City, with Daniel Steele and Catherine Guastavino
9:30-9:45       Soundscape building blocks #1, Soundscape and activities with Daniel Steele
9:45-10:30     Lisa Lavia - Soundscape interventions in Brighton; Soundscape building blocks #2,
                                          Soundscape and public art
10:30-10:45   Coffee Break
10:45-11:30   Andre Fiebig - Psychoacoustics, sound quality, cognition, Soundscape building blocks #3,
                                                 Using audio islands
11:30-12:15   Jochen Steffens - Shaping sonic experiences in urban environments; Soundscape building blocks #4,
                                                   Using water features
12:15-12:30   Romain Dumoulin - Soundscape building blocks #5,
                                                       Music for public space
12:30-13:30    Lunch (Provided)
13:30-14:00    Audio demonstrations in CIRMMT laboratories, Florian Grond and Romain Dumoulin
14:00-17:30    Presentation of Montreal sites
                          Pierre Sainte-Marie - Projet Promenade fleuve-montagne
                          Hélène Benoit - Projet rue Saint-Paul
                          Romain Bonifay - Projet rue Sainte-Catherine Ouest

                        followed by breakout sessions with soundscape design exercises  (français disponible)
                        Facilitated discussion, Christine Kerrigan, Alioop Design
17:30-18:30    Public Lecture: The Future of Soundscape in Cities
                          Jochen Steffens  –  Experience sampling of soundscape
                          Andre Fiebig  –  Soundscape with public participation
                          Martijn Lugten  –  Soundscape through drawings
                          Lisa Lavia  –  Managing aggressive behavior with soundscape              
18:30-19:00   
Closing discussion
19:00               Closing reception
Registration required.  PLEASE FILL THE REGISTRATION FORM.
Guided site visits available for out-of-town visitors. For more information, please contact info@sounds-in-the-city.org
*****

Dynamiser les zones piétonnes par la dimension sonore
Inscription (obligatoire):
Merci de vous inscrire en ligne pour tout ou partie des événements 
[LIEN]
Résumé :
Les zones piétonnes sont en hausse dans les espaces publics – elles peuvent devenir des emblèmes de la ville si elles sont bien aménagées (que l'on pense à la rue Ste-Catherine ou à Times Square à New York), ou elles peuvent devenir des boucs émissaires hautement politisés si elles ne le sont pas. Parmi les aspects jamais abordés à propos de ces places, mentionnons la façon dont les visiteurs les perçoivent sur le plan acoustique et la question de savoir si le son peut jouer un rôle dans leur conception. Nous appelons cette considération holistique du son le paysage sonore ou le soundscape. Nous avons invité des experts en urbanisme, design et en paysages sonores à participer à un débat stimulant dans le cadre de notre événement.

Tous les projets commencent lorsque nous supprimons la plus grande source de bruit – la circulation. Réduire le bruit contribue grandement à la santé et la qualité de vie, mais le bruit peut avoir son utilité. Dans un grand parc urbain, le silence est reposant, mais le bruit de la circulation peut procurer une couverture constante et, de cette façon une forme d'intimité. Sans ce bruit, nous causerions peut-être « un silence gênant », alors qu'il n'y a rien « sous » le bruit de la circulation. Est-ce l'ambiance appropriée? Une zone piétonne animée doit produire un son qui reflète la culture et les activités du quartier à toutes les heures de la journée. De plus, l'environnement visuel et le son doivent aller de pair.


Public :
À l'heure actuelle, il n'existe pas d'expertise mondiale établie faisant autorité en matière de son dans les zones piétonnes (commerciales ou autres). Nous souhaitons rejoindre les urbanistes et designers montréalais se spécialisant dans la co-création. Prenons le temps de développer des idées sur la façon de mieux concevoir ces espaces de plus en plus populaires. Parmi nos invités, mentionnons des experts en paysages sonores et design de l'Université McGill, d'Allemagne et d'ailleurs. Tandis que les urbanistes présents auront le défi de travailler avec le son, les chercheurs en matière de son seront eux confrontés à la complexité de la planification dans cette ville. Des projets en cours dans la Ville de Montréal seront utilisés comme cas typiques.
Conférenciers invités:
Lisa Lavia, Directrice générale, Noise Abatement Society, Londres, Royaume-Uni
Jochen Steffens, PhD, Université technique de Berlin, Allemagne
Andre Fiebig, PhD, Head Acoustics, Allemagne
Martijn Lugten, doctorant, Université Cambridge, Royaume-Uni et NLR Dutch National Aerospace Laboratory, Pays-Bas
Pierre Sainte-Marie, Hélène Benoit & Romain Bonifay, Ville de Montréal, Division des grands projets

Lieu :
CIRMMT, Université McGill            527, rue Sherbrooke Ouest, 8e étage, salle A-832 (8é étage)
Horaire:
Vendredi 18 novembre

Toutes les interventions auront lieu en anglais.

8:30-9:00          Café de bienvenue

9:00-9:10          Mot d'ouverture : Katja Melzer, Goethe-Institut
9:10-9:30          Introduction, La ville sonore, Daniel Steele et Catherine Guastavino
9:30-9:45          Éléments constitutifs des paysages sonores # 1, Le paysage sonore et les activités, Daniel Steele
9:45-10:30        Lisa Lavia – Intervention sonore à Brighton; Éléments constitutifs des paysages sonores # 2,
                                             Le paysage sonore et l'art public

10:30-10:45      Pause-café

10:45-11.30      Andre Fiebig – Psychoacoustique, qualité sonore, cognition; Éléments constitutifs des paysages sonores # 3,
                                                  Utiliser des îles sonores
11:30-12:15      Jochen Steffens – Façonner l'expérience sonore dans les environnements urbains;
                                                      Éléments constitutifs des paysages sonores # 4, Utiliser des éléments aquatiques
12:15-12:30      Romain Dumoulin – Éléments constitutifs des paysages sonores # 5,
                                                          De la musique pour l'espace public,

12:30-13:00      Lunch (fourni)

13:30-14:00      Démonstrations sonores dans les laboratoires du CIRMMT, Florian Ground et Romain Dumoulin

14:00-17:30      Présentation des sites montréalais
                            Pierre Sainte-Marie  -  Projet Promenade fleuve-montagne
                            Hélène Benoit  -  Projet rue Saint-Paul
                            Romain Bonifay  -  Projet rue Sainte-Catherine Ouest
                          Suivi des séances en petits groupes avec exercices de conception de paysages sonores (français
                          disponible) et une discussion organisée avec Christine Kerrigan, Alioop Design

17:30-18:30      Conférence publique : L'avenir des paysages sonores dans les villes
                            Jochen Steffens  –  Faire l'expérience de l'échantillonnage sonore
                            Andre Fiebig  –  Le paysage sonore avec la participation publique
                            Martijn Lugten  –  Le paysage sonore par les dessins
                            Lisa Lavia  –  Gérer les comportements agressifs par les paysages sonores
                           
18:30-19:00      Discussion finale
19:00                 Réception de clôture